Welcome to the California Educational Theatre Association! (CETA)
CETA VISION: Every California student will experience the highest standards of theatre arts education.
CETA MISSION: The California Educational Theatre Association mission is:
To achieve sequential, standards-based, comprehensive theatre education

To promote equity and access to theatre arts education

To implement the California Credential for Theatre Arts

To recognize theatre excellence through awards and scholarships

To provide valued opportunities for theatre educators and students.
This mission encompasses pre-K through higher education throughout the State of California.
Upcoming Events:
Announcing the 2020 CETA Annual State Conference:
"Connecting the Dots of Learning"
October 9-11 at The Westin South Coast Plaza, Costa Mesa
Click here for more information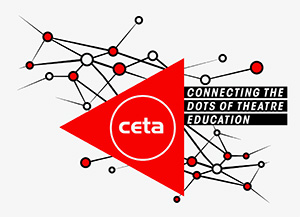 Southern High School Theatre Festival
January 15-17, 2021
Fullerton High School, Fullerton

CETA Middle Stage Fest
TBD
Katherine L. Albiani Middle School, Elk Grove
Click here for more information

Stand Up 4 Arts Education/CA Youth in Theatre - CYIT
March 7, 2021
Sacramento State Capitol
Join us at the state Capitol in Sacramento to advocate for theatre arts in education through performance, recognition, community engagement and legislative meetings. Take this opportunity for your students to show on a statewide scale that theatre matters, sharing their passionate voices with their political representatives.
Click here for more information