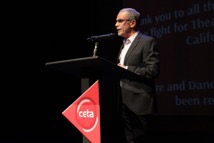 Introduced by Max Schafer
East L.A. Classic Theatre (ECT) is the nation's only Latino-based Theatre Company that offers professionally performed Shakespeare adapted for youth in underserved communities of color. ELACT also offers children in elementary, middle, and high school comprehensive literacy skills, English language development, and interpersonal awareness programs as part of the school curriculum and through after-school theatre-based courses that expose youth to theatre arts in a fun, contemporary, and interactive manner.
This organization was one of the only Arts programs serving students in East L.A. before LAUSD brought their arts program. They bring in a team of highly professional stage and television artists to provide quality workshops.  With more than 14 years' experience, ELACT's unique approach improves students' reading and verbal skills, writing ability, classroom participation and comportment, as well as their overall self-confidence. East L.A. Classic Theatre encourages students to be active learners who develop an appreciation of the arts while discovering the power of self expression, creativity, and a determination to succeed.
I got a call about 14 years ago from someone was looking for only the very best instructor to provide additional theatre workshop training to resident artists in a group called East Los Angeles Classic Theatre. Would I please call back Tony Plana?
I'm the guy. I'm the guy! I had worked with Viola Spolin. Her book was not only the bible of improvisational theatre, but as many of us know, the best book on children's theatre. My CD of Viola Spolin's Theater Games for the Classroom had come out. So I met Tony.
Wow!  What a passionate, enthused, dynamic person. And he was famous even back then.  He had Ugly Betty. He was doing stage. And he founded and was running East Los Angeles Classic Theatre.
He was down in the trenches running every aspect of the organization.  For the training Tony was buying the trainers all of Violas' books, providing t-shirts, renting workshop spaces, providing lunch, and paying for them to attend the training. He was committed.   He established a program where resident artists went into in East LA classrooms and surrounding communities to work with children to learn acting, write their own scripts, then perform them. He's getting high school students and young adults to put on culturally-adapted versions of Shakespeare's plays. In recent years he has even taken his program even further with reinforcing language development.
Now consider this. He's at the top of his profession. Only the tiniest fraction of actors in America get long running series on TV and work all the time in stage or in movies. People in that position need to spend all their time and effort on their career if they want to stay on top. I mean not even five minutes away. How do you not put your career at risk for a venture like this?  I'm not sure I could do that. And how do you continue to stay at the top?  And then juggle this with a family life? I don't even want to go there.
And he does this at a time when LAUSD's fantastic Arts program was just starting up, and when kids in East LA had nothing. I know. I was a teacher 10 years there at the time. One day at a staff meeting I made an innocent observation about the lack of arts education at my school.  A month later I was presented with a $30 book of art activities! That was it. True story.
But at that time Tony brought in a group of highly talented actors of color from television and stage, 30 – 40 of them, who are smart, enthusiastic, energetic, young, and so beautiful. For me to have the opportunity to work with them was one of the most wonderful two weeks of workshops I ever led.  And then he brings this group of the most perfect role models into the children's classrooms.  Now East LA kids have very few role models, but this group is amazing and talented in every way.
That was then; this is now. So I found out this year that ELACT was still running, serving over 1000 children. With over 20 television credits in 2016 alone, and appearing on TV just last week in Lethal Weapon, please welcome a great actor and an inspiring educator, Tony Plana.
Because there are thousands of children, maybe including my own students, out there who had a chance to see a play, to write a play, to act out a play, and much more because of Tony and ELACT, but who will never be able to thank him, or even know that it was him who was responsible, we need to acknowledge the role he has played in their lives.  They may not be able to personally thank him, but we can, and today we get to say thank you.  So let's welcome Tony Plana!
(Max Schafer)