Now that California has a single subject Theatre Credential, there are many next steps and the real work begins. Putting the new credential into place is a complex process that CETA has already begun navigating.
On the same day that our Theatre credential was reinstated, AB2862 also became law which means we will have new Visual & Performing Arts Content Standards, framed around the National Core Arts Standards, by 2019—the earliest date possible as VAPA moves to the head of the line with World Languages for standards adoption. For our next generation of theatre and dance educators, this means they will be awarded their credentials—an actual Theatre credential!—with their pre-service education and training centered on the new VAPA standards.
CETA, along with CAEA, CDEA and CMEA—our 4ArtsEdOrg coalition, is turning immediately to next steps. Now that we have a Theatre credential, we are ready to work with the Commission on Teacher Credentialing—CTC to ensure credentials for the four arts disciplines and the requirements to obtain each are comparable and the pre-service theatre and education programs at higher ed institutions throughout the state are ready to enroll and train the theatre educators of the future.
The new legislation protects the credentials of all current theatre educators and anyone who has a valid single-subject English credential will be able to teach theatre as long as he or she is licensed to teach. Suffice it to say, that anyone who is currently authorized to teach theatre will continue to that right. CETA will be actively involved in protecting that right as the transition into creating the credentialing process for a theatre credential is in progress.
There are several ways you can participate as a theatre educator now that theatre teachers can acquire a Theatre Credential. Being an active member of CETA will give you a voice and create a strong platform as you seek to strengthen your programs, develop positive relationships with your administration, provide equity and access for all students to the arts, and help you successfully teach a standards-based theatre curriculum. Being a member of CETA will ease the stress of being a theatre teacher. We are with you every step of the way and we need you to take an active role in your professional organization because we represent you!
Click here for a copy of SB916 TADA! to see what the law says.
The state of California now has Theatre and Dance credentials!!
TADA! SB916 was signed into law on September 26, 2016.
After a 46 year struggle and much hard, hard work by many, many stakeholders in arts education, our credentials have been reinstated. This is a monumental achievement.
New Teaching Performance Expectations on Visual and Performing Arts, Arts Integration | California Alliance for Arts Education,
Click here


Advocacy Begins At Home!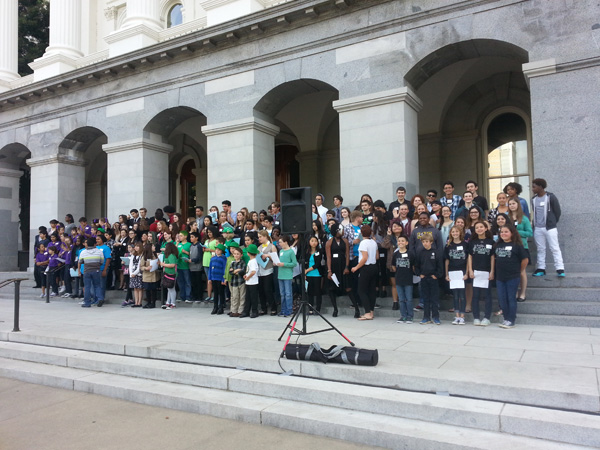 LOCAL CONTROL ACCOUNTABILITY PLAN (LCAP)
CETA along with CAEA, CDEA and CMEA have created a resource for arts educators. This is the first of three pieces that will be available for arts educators to become more familiar with the Local Control Accountability Plan (LCAP) process. We hope you find part 1 useful. Stay tuned for parts two and three!

Local Control Accountability Plan (LCAP) Process, Part 1
Local Control Accountability Plan (LCAP) Process, Part 2   
SUPPORT THE ARTS!
Help support the arts in California by purchasing a Drive the Arts license plate.  Proceeds from sales and renewals of California's Arts Plate support arts education programs across the state. Visit https://www.artsplate.org to learn more.

CONTACT YOUR LEGISLATORS and OTHER STATE AND FEDERAL OFFICIALS:
Contact your State Legislators
Contact your Federal Legislators
Contact other Federal and State Officials
An Unfinished Canvas, Arts Education in California: Taking Stock of Policies and Practices. 
A landmark study from independent research institute SRI International, for the first time systemically examined the status of arts education in California. The study reveals that the vast majority of California's schools fail to meet state standards for teaching the arts, and that access to arts instruction varies widely among the state's schools.
An Unfinished Canvas – Summary Report  
An Unfinished Canvas – Full Report

RELATED RESOURCES AND LINKS
2009 Arts Education Letter: Secretary Duncan in support of arts education view here
Americans for the Arts view here
Arts Education Partnership Critical Links view here
Arts Create California view here
California Alliance for Arts Education (CAAE) Action Center view here 
(Many helpful tools including "Make the Case to Your School Board," "Facts You Can Use," and more.) 
CA Arts license plates view here
CAEA Position Paper view here
Elliot Eisner's Ten Lessons the Arts Teach view here
Elliot Eisner's NAEA Speech
"What Education Can Learn from the Arts" view here
CA Department of Education – Enter "artS education" to search
Kennedy Center Alliance for Arts Education Network view here
President's Report:
Reinvesting in Arts Education: Winning America's Future Through Creative Schools view here
Leadership Powerpoint (large files–may take a few minutes to download)
…..

Step Up to Leadership, Part I view here

…..
Step Up to Leadership, Part II view here
Visual Arts California Advocacy Tips view here 
CA Arts Council–CAC
American Alliance for Arts Education–AATE
Educational Theatre Association–EdTA
CA Arts Project–TCAP
College Board
Arts Education–National Endowment for the Arts–NEA
CMEA 'STEAM' Position Statement