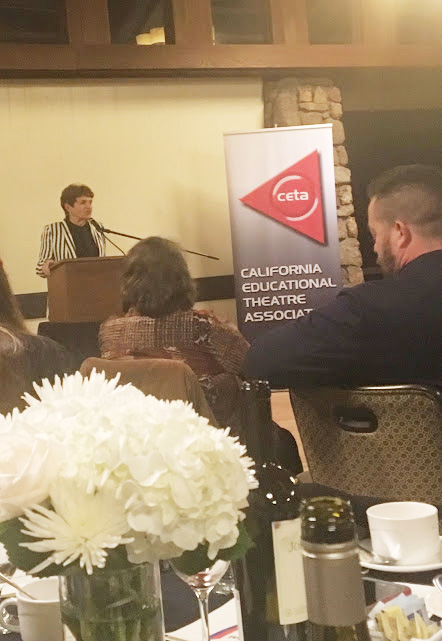 2018 CETA Medallion
Gale Caswell
Introduction by Michael Despars
To me the CETA Medallion should only be given to a person who exemplifies what is means to be an outstanding theatre educator, supporter, and of course a life long learner. This represents recognition for a career that always put students first and a career that includes working on and with the CETA Board to further its vision of ensuring that Every California student will experience the highest standards of theatre arts education.
Click here to read the entire introduction by Michael Despars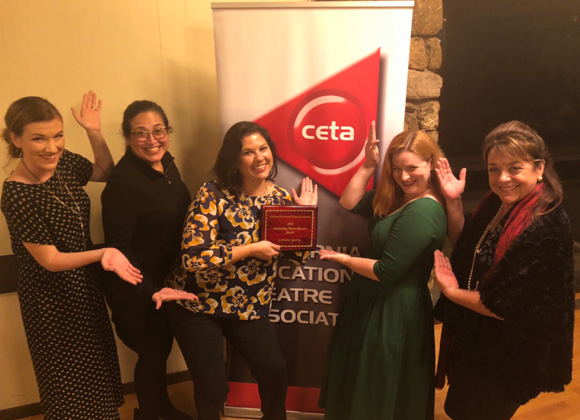 Outstanding Theatre Educator Award
Corinne Garcia
presented by Amy Caston
Thank you Amy, for that wonderful introduction.  Teaching your children has been such a pleasure and I am honored by your generous and kind words and your nomination for this prestigious award.
I practiced my speech this week with my students and they told me I needed to start with a joke.  They also told me which joke I needed to tell:  What do you call an alligator in a vest?  An investigator!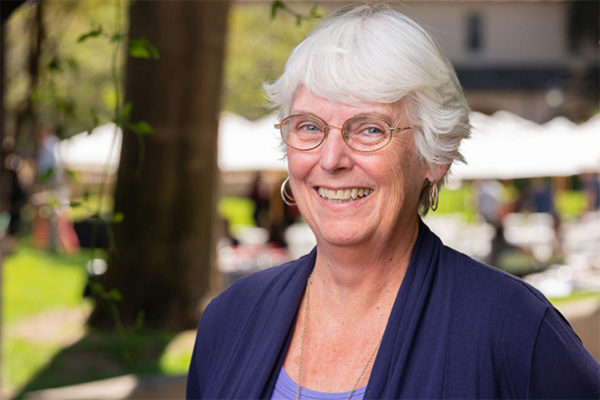 Outstanding Contribution to Theatre Award
Dr. Barbara Murray
Barbara has her BA in Theatre from Santa Clara University, and her MFA from Southern Methodist University. Barbara has just completed 40 years as resident Costume Designer and teacher at Santa Clara University in their Theatre and Dance Department. Barbara has designed costumes for SRT, Livermore Shakespeare Festival, Cabrillo Stage, Opera San Jose, Lyric theatre and Children's Theatre Workshop. She has worked as a costume technician at Milwaukee Repertory Theatre, Cutter/ Draper at PCPA, and Assistant dyer and painter in the San Francisco Opera Costume Shop. Barbara is a member of the United States Institute for Theater Technology and is active in the Costume Commission, having given several presentations at the national conference. She is a founding member of the Bay Area Costumers' Alliance, and has served as a design adjudicator for ACTF and for the High School Musical Theatre festival sponsored by American Musical Theatre of San Jose.
Click here to read Dr. Murray's Acceptance Speech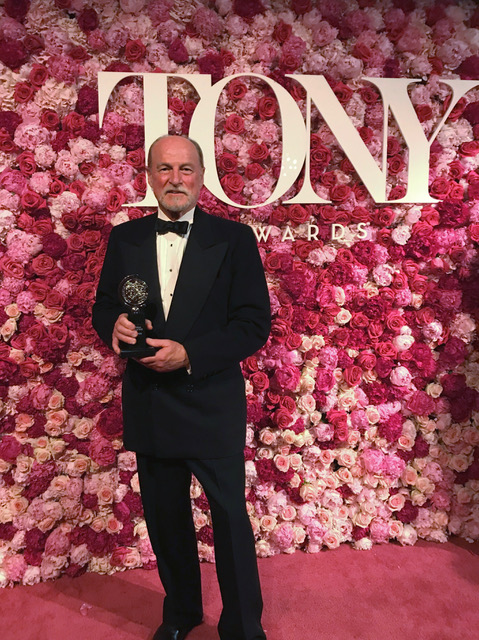 Multicultural Award
TheatreWorks -acceptance speech by Ronnie Pilaster on behalf of TheatreWorks—Silicon Valley
For those of you who know Robert Kelley, you know that he answers simply to Kelley. I cannot convey fully his excitement when he learned of this recognition bestowed upon TheatreWorks' as a result of our devotion to diversity, nor can I adequately convey his sadness in regards to his absence here tonight. But he did help craft a brief note that I want to share with you. Before I do that, however, I thought it relevant to share just a few seconds about myself, because my story illuminates TheatreWorks' devotion to diversity.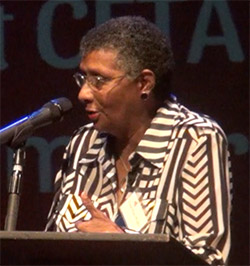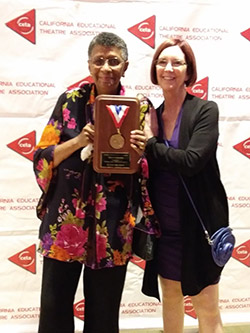 2017 CETA Medallion
Dr. Ethel Pitts Walker
A former San Francisco Arts Commissioner, selected past accomplishments include: Voted as one of four 2008 University of Missouri College of Arts & Science Distinguished Alumna and a National Black Theatre Festival 2001 Living Legend. This Black Theatre Network two term Founding President was also a CA Educational Theatre Association and CA Legislative Action Coalition for Arts Education former President. In 1999 the American College Theatre Festival honored Walker with its Theatre in Excellence Award plus she was inducted into the national Educational Theatre Association Hall of Fame in 2000. Featured on the cover of Black Masks' July/August 2000 issue, in 2002 Dr. Walker was inducted into The College of Fellows of the American Theatre at the Kennedy Center for Performing Arts. Ethel has authored several plays and articles in addition to two books. With numerous directing credits, not the least of which being AADC's Can I Speak For You Brother?, she served as dramaturge for Theatre Works' production of Old Settler.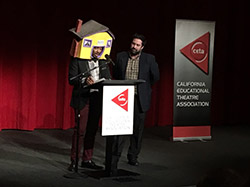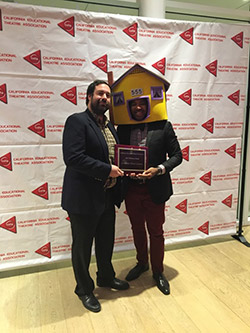 Visionary Award
Cornerstone Theater Company
For over 30 years, Cornerstone has brought together an ensemble of professional artists of the highest caliber with people who would never think of themselves as artists to produce works of excellence based on the stories, concerns and issues of a given community. Their plays celebrate many voices, and are staged in theaters and in parking lots, in factories, schools and subway stations. They strive to include people who have not been on stage or even seen theatre. They've taken up residence in small towns and urban neighborhoods, collaborating with locals from start to finish to tell their unique stories through theatre. By combining the artistry of people with many levels of theatrical experience, Cornerstone acts upon the conviction that artistic expression is civic engagement and that access to a creative forum is essential to the wellness and health of every individual and community.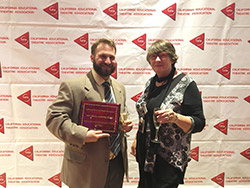 Theatre Leadership Award
Drama Teachers Association of Southern California
DTASC's mission is to create a network where theatre educators and students can effectively communicate ideas, share resources, workshop and showcase their theatre skills. We believe in creating an environment that fosters the best in educational theatre through performance opportunities, diversity and professional adjudication. We support and reward hard work and commitment to the discipline of theatre and education. DTASC has been serving students and theatre educators in Southern California since 1927.
Administrator Award
Curtis Marcell, Citrus Valley High School Ass't Principal
An Assistant Principal at CitrusValley High School since it opened its doors almost 8 years ago Mr. Marcel has been integral in helping build and shape the Performing Arts Department into the top ranked program it is today. As the AP of Guidance and Scheduling, Curtis encourages teachers to pursue innovative strategies to expand their program and reach a diverse range of students. His door is always open and he enthusiastically supports Performing Arts both publically and privately. He is an administrator who recognizes the need for smaller class sizes in a growing program; he routinely assists in creating Advanced level classes; and as department supervisor, he communicates with his teachers about the changing needs of their program.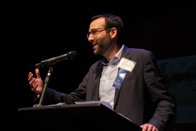 Outstanding Contribution to Educational Theatre
Senator Ben Allen
2016 CETA Awards Introductory Speech by CETA President Carol Hovey
Last year CETA celebrated its 70th Anniversary as an organization first called SCETA, founded as a professional organization whose purpose was to enrich its membership with conference programs of noted academics and professionals.  As we gather together in 2016, our organization still serves that same purpose and so much more.   CETA's Vision: Every California student will experience the highest standards of theatre arts education.
Click here to read the entire introduction by Carol Hovey
Click here to read the entire speech by Ben Allen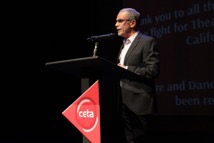 Multicultural Award
East LA Classic Theatre
Introduced by Max Schafer
I got a call about 14 years ago. Someone was looking for the very best instructor to provide additional theatre Workshop training resident artists in a group called East Los Angeles Classic Theatre. Would I call back Tony Plana?
Click here to read the entire introduction by Max Schafer
Click here to read the entire speech by Tony Plana
Click here to read acceptance speech by Valentina Cardenas on behalf of ELACT