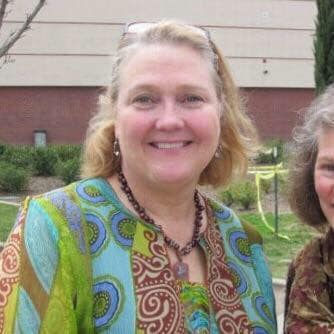 CAROLYN ELDER 
Carolyn taught theatre in Sacramento and Elk Grove for the past 30+ years (Samuel Jackman Middle School), and served on the board of directors of California Educational Theatre Association (CETA) for 24 years. She worked on the State of California's writing committees for the California Visual and Performing Arts Framework and California State Standards.  In 2008, the American Association for Educational Theatre (AATE) awarded her the Lin Wright Award for "most improving theatre education for students kindergarten through twelfth grade in the United States." Carolyn also designed costumes for theatre productions throughout the Sacramento region since 1972. Costumes Enough, her costuming company specializing in pioneer clothing, provided thousands of costumes for students attending historical events in northern California. Carolyn held a B.A. in Theatre Arts, and an M.A. with an emphasis in Theatre Arts Education.  She was a Fellow of the California Arts Project, and studied theatre at Shakespeare's Globe in London.
CETA fondly remembers Carolyn as both its Past-President and as a passionate arts advocate. She did much to advance theatre education in our state, especially in her dedication to middle school students. She founded CETA's Middle School Festival, and served as its host for many years.  Several years ago, Carolyn generously endowed a CETA scholarship for students interested in costume design. Her gregarious spirit, generous laughter and loyal friendship will be greatly missed.
For those who would like to honor her memory and contribute to the Carolyn Elder Scholarship in Theatrical Costume Design, please contact Carol Hovey at CHovey@cetaweb.org
HISTORY & OVERVIEW
CETA holds a very special Awards Banquet that honors & recognizes people & organizations who have contributed not only to the CETA organization, but to theatre education in general. This wonderful event takes place during our Annual Conference when CETA members come together for pedagogy, advocacy and our desire to further our understanding of what it means to be both an artist and teacher.
The Awards were initiated in 1981 under the Presidency of Jackie Melvin. Over the years such luminaries as Charlotte Kay Motter, Lawrence and Lee, Carmen Zapata, The Old Globe, Luis Valdez, Cyril Magnin, and the Honorable Jack Scott have been recipients. For your interest, the History of the Awards is below.
CETA Medallion
Presented to a member of the association whose continued service has been distinguished by leadership, loyalty, contribution, and support.
1981 Charlotte Kay Motter
1982 Jean Korf
1983 William Scholsser
1985 Doyne Mraz
1986 Harry L. Murray
1988 William C. White
1989 Jacqueline A. Melvin
1990 Robert Titlow
1991 Ronald E. Barnes
1992 Billie Williams
1993 Mary Jane Evans
1994 Clayton Liggett
1995 Norman Mennes
1996 John Cauble

1997 Emmett Jacobs
1998 James Klain
1999 Alfred H. Muller
2000 Lee Korf
2001 Maxine Stanoff Lewis
2002 Kaleta Brown
2003 Ellis Jordan
2004 Gai Jones
2006 Carolyn Elder
2007 Carol Hovey
2008 Ellen Sell
2010 Amanda Swann
2011 James Thomas Bailey
2012 Judi Garratt
2013 Kim O'Rourke
2014 Krista Carson Elhai
2015 Arlene Hood
2017  Dr. Ethel Pitts Walker
2018 Gale Caswell
Outstanding Theatre Educator Award
Presented for contributions to theatre education well beyond his/her work-a-day job in recognition of significant and valuable contributions made to encourage, promote, and develop the highest standards in theatre education.

1981 Donovan Marley
1982 Jerry Blunt
1983 Jeanne Hall
1984 James Butler
1985 Charlotte Kay Motter
1986 Marcella Oberle
1987 Mary Jane Evans
1988 Norman Mennes
1989 Dorothy Mulvihill
1990 Lee Korf
1991 Alfred H. Muller
1992 Kaleta Brown
1993 Maxine Stanoff Lewis
1994 William Virchis

1995 Victoria Francis
1996 Fred Fate
1997 Maureen Jordan
1998 Gai Jones
1999 Jan Jory
2000 Robert Smart
2001 Earl Byers
2002 Kim O'Rourke
2003 Paul F. Beal

2005 Krista Carson Elhai
2007 Cindy Little
2008 Doug Smith
2009 Jacquie Thompson-Mercer
2010 Kirsten Giard
2011 Marcia Barryte
2012 Kathleen Woods
2013 Gary Krinke
2014 Marion Tompkins
2015 Amy Caston
2016 Lisa Sandoval
2018 Corinne Garcia
Outstanding Contribution to Educational Theatre Award
Recognizes outstanding contributions to theatre education by an individual or organization outside the discipline.
1981 Cyril Magnin
1983 Lucile Salter Packard
1986 James A. Doolittle
1987 Theatre Bay Area
1988 The Honorable Sam Farr
1990 Joan Boyet
1991 Paul Manicucci
1992 Diane Brooks
1996 Leo Freedman Foundation
1997 Glenda Gentry
1998 Diane Brooks
1999 The Honorable Susan Davis
2000 The Honorable Bruce McPherson
2001 The Honorable Sheila James Kuehl
2002 Don Doyle
2003 Corky Dominguez
2004 Fullerton College High School Theatre Festival
2005 The Honorable Jack Scott
2006 Camp Bravo
2007 Nancy Carr
2008 Bryan Ha
2009 Lynn Lanning
2012 Mondavi Globe Education Academy
2013 The Chance Theatre
2014  Heide Janssen - OC Varsity Arts
2015 Lee Costello – Mob Rule
2016 Senator Ben Allen-- TADA!
2018 Dr. Barbara Murray
Professional Artist Award
Presented to a professional artist or organization for assistance to and support of theatre education.

1981 Michael Kanin
1982 Craig Noel
1983 Robert E. Lee
1984 Gordon Davidson
1985 Maidie Norman
1986 Carmen Zapata
1987 Edward Hastings
1988 South Coast Repertory
1990 Fay Kanin
1991 Sharon Ott
1992 Jerome Lawrence

1993 Philip Kan Gotanda
1994 The Old Globe
1995 Mark Cuddy & the Sacramento Theatre Co.
1997 Carrie Snodgrass
1998 Ben Donenberg
1999 Luis Valdez and El Teatro Campesino
2001 California Youth Theatre, Michael York, Jack Nakano
2002 Phillip E. Walker
2003 James Thomas Bailey
2004 Craig Slaight
2006 Peggy Shannon
2008 California Musical Theatre
2009 Mary Krell-Oishi
2010 Teenage Drama Workshop
2012 Center Theatre Group, LA
2014 Orange County Cappies
& Center for Excellence in Education
Multicultural Award
Honors an individual, organization, institution or company making significant contribution to the field of theatre / drama for education dealing with multicultural issues and / or reaching diverse audiences and constituencies.
2000  Ed Trujillo
2001  Buddy Butler
2002  Ellen Sell
2003  Donna Tucker

2005 Migrant Youth Theatre Project
2010 Kaiser Permanente Educational Theatre Programs, Northern California
2011 Melanie Andrews
2016 East LA Classic Theatre
2018 TheatreWorks--Silicon Valley
New Teacher Award
Honors a teacher that has made a significant impact in less than 5 years in the field of theatre education.
2000 Craig Howard
2002 Jennifer Casey
2003 Rob Duval

2004 Dr. Steven J. McCarthy
2005 Kathleen Switzer
2007 Hillary Pearson
2008 Amy Caston

2009 Jordan Fox
2010 Michael Despars
2014 Desiree Hill
2014 Desiree Hill
Theatre Leadership Award
Recognize contribution to a specific event, workshop, authorship, or chairmanship of an event or committee.
2000 Gai Jones,
California Youth in Theatre Day
2002 Thomas Hird,
KC/ACTF Region VIII Host

2003 Lee and John Childress, MACY Awards
2005 California State Thespians
2006 Emmett Jacobs
2007 Kathy Harris
2010 Chuck Kuhn
2013 Currin Price
2014 Michael Despars
2017  Drama Teachers Association of Southern CA--DTASC
Administrator Award
Honors an administrator who has played a significant role in the advancement of theatre education.
2003 Dr. John Roach
2005 Robin Lithgow
2006 Cathy Jo Foss
2007 Dan Daris
2008 Scott Riches
2009 Ron Jessee
2010 Judi Garratt
2011 Colin Ford
2012 Kristine Alexander
2013 Dr. John Biroc
2016 Rani Goyal
2017 Curtis Marcell
Visionary Award
2017 Cornerstone Theater Company
CETA Award Nomination FAQ's & Guidelines
NOMINATE HERE!