NEW CYIT 2.0 in March 2018
— more info to come! 
The 20th Annual California Youth in Theatre Day (CYIT) is a celebratory day honoring theatre students & teachers throughout CA.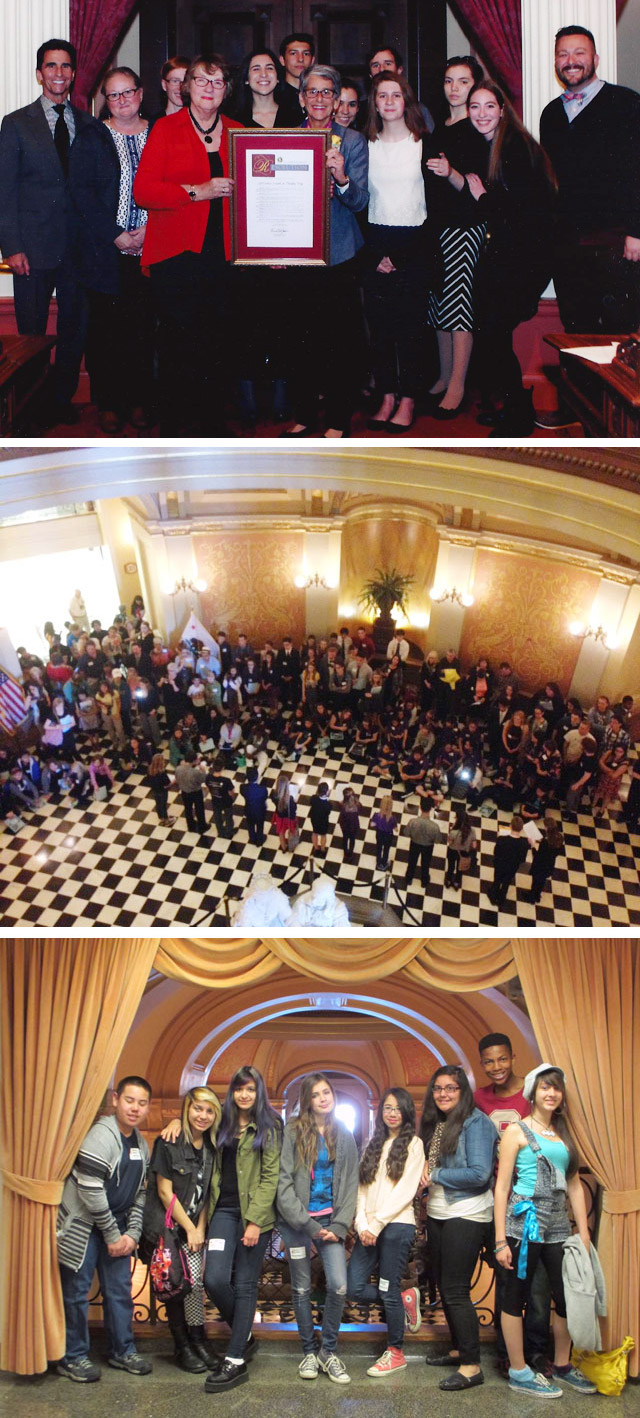 General Rules and Information
Everyone attending the event must be registered.There is no on-site registration.
Sponsoring teachers must be current members of CETA.
Sponsoring teachers must attend the event and supervise their students.
Performers must meet at least one of the qualification guidelines to ensure that performances are polished pieces – not works-in-progress. The qualification guidelines are posted on our website.
Submission deadlines cannot be extended.
Registration and fee payment, through this website, must be completed by Feb. 22nd.
Program information must be submitted and received by Feb. 25th.
There are no refunds for this event.
CETA does not recommend or support overnight stays for this event.
All correspondence will be sent to the sponsoring teacher. It is the teacher's responsibility to distribute information to registered attendees.
Sponsoring teacher may register for 2 units of academic credit from CSU East Bay. For information and costs for the course, Theatre Advocacy For Theatre Students, contact Gai Jones.
We request that you contact your local newspaper to publicize your participation in this event.
It is important to make travel arrangements so that all registered participants arrive at the Capitol no later than 7:30 AM. Please keep in mind that it takes approximately 40 minutes to travel from the Sacramento Airport to the Capitol.
The Day's Schedule
The Opening Ceremony begins at 7:30 AM in the Capitol. Only
registered attendees will be seated for the opening festivities.
At 8:45 AM, students will visit their legislators' offices to confirm their
appointment later in the day, and then gather in the Capitol Rotunda to
see our performance of 'Theatre Matters' a spoken word piece featuring one   member of each attending school.
At 9 am, we walk to SACRAMENTO THEATRE COMPANY for a continental breakfast, introductions, hour-after-hour performances, lunch, and workshops.
Student and Adult ID's may be required to enter the SACRAMENTO THEATRE COMPANY.
CETA certificates will be presented during the day to the performers and their teachers.
Between 4:00-4:30 PM, we gather for the Closing Ceremony that will conclude the day's events.
Performance Guidelines
We ask for professionalism and a spirit of support and goodwill with regard to the appropriateness of material, adhering to time limits, and overall behavior throughout the day.
All aspects of the performance must be appropriate to a G-rating, including language, content, costuming, etc.
Hand props are allowed but please keep your set-up simple and efficient. There is no available piano or keyboard.
Each group must provide its own CD/tape player. Outlets are available, but it is recommended that you have battery backup.
The theatre will provide a total of 4 chairs ONLY for onstage use.
It is recommended that each teacher acquire performance rights for any published material to be performed at the event.
All morning performers and their instructors are to be audience members for the other morning performers; the afternoon performers and their instructors are audience members for the other afternoon performers.
When students and educators are not in the theatre for performances, they will attend professional interactive workshops and/or travel to the Capitol for appointments with legislators.
At lunch we gather on the patio for box lunches, and enjoy performances by special guests.
All students must remain with their teacher at all times.
After 4:30 PM, groups may opt to take the self-guided tour of the Capitol or take the trolley to Old Sacramento for shopping and food. Please make travel arrangements that ensure your participation until 4:30 PM. We request that each teacher schedule air transportation from Sacramento after 6:30 PM.
Time Limits

Monologues and solo performances are a maximum length of 4 minutes.
Duo performances are a maximum of 5 minutes.
Group performances are maximum of 8 minutes.
However, the total time for each school is 8 minutes. Please edit your pieces to fit the maximum time limit. If you go overtime, it will affect the day's events.

The following information is needed to complete the registration on this site: Attending/Sponsoring teacher Information
Email address.
Cell phone number.
Teacher's home address.
School Information
School name.
School address.
Participants
Number of people registering (total number: teacher, students, chaperones). Every attendee must be registered.
Names of performing students.
Names of non-performing students.
Names of chaperones.
Number of vegetarian lunches.
Arrival time in Sacramento
Performance Information
Number of performance entries.
Types of performance entries (song, monologue, dance, scene).
Performance running time of each entry (The total time of combined entries is 8 minutes).
Registration Information
Ticket Type.
Amount for participants (number of ALL attendees @ $30.00 each).
$75 CETA membership (if teacher is not a current 2016-2017 member).
Total Amount Method of payment: PayPal, school check, or personal check (1 check per school entry). Purchase Orders are NOT accepted. All checks must be received by February 25, 2017.
Legislator Information
Name of California state senator and his/her district number.
Capitol room number of California state senator.
Name of California state assemblyperson(s).
Capitol room number/s of California state assemblyperson(s).
You can find your state legislators here.
Publicity Information
Name of your local newspaper.
Email contact information for the section of your local newspaper that you will contact to submit your publicity article/photo. Please do not give us the newspaper's general website address!
Once the required fields are entered, and your payment has been received, the teacher will be emailed program information to be completed and returned by February 25, 2017.
Registration is NOT complete until registration forms and fees are submitted on this site by the deadline and program information is submitted to gjones@cetoweb.org AND gai.jones@sbcglobal.net.
Deadlines:
Registration and payment must be received by February 22, 2017. Program information must be received by February 25, 2017. Questions? Contact Gai Jones.
CETA ACCEPTS NO LIABILITY FOR ANY INJURY CONNECTED WITH THIS EVENT.

Are you a multi-professional organization member?
If you are current member of CETA and another theatre education organization, such as DTASC, CA State Thespians or EdTA, then as a multi-professional organization member, you receive:
complimentary student weekend pass for the CETA Southern High School Theatre Festival.
complimentary student registration fee for the CETA NorCal Festival.
complimentary student registration fee for the CETA Middle Stage Fest. To receive this perk, just enter the promo code (which will be provided you) when you pay your fees online.