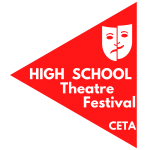 Message from the Festival Coordinator
Greetings CETA High School Theatre Festival friends and family. I hope this message finds you well. I understand that the past few months have been challenging in more ways than we ever could have imagined. We miss our students. We miss producing theatre. We miss creating art. We are overwhelmed with anxiety about the health and safety of our friends, family, students, and colleagues. Our hearts ache for the people adversely impacted by police brutality, racism, and hatred. I personally had a brief moment of joy, as my DACA (Deferred Action for Childhood Arrivals) students were given a reprieve by The Supreme Court, but know in my heart that the fight is not over. These past few months have been the most demanding, stressful, and grueling periods of many of our lives. As we begin to look to the future, state, local, and school district leaders are trying to make a plan. We are aware that all the planning and preparation will not quell the uncertainty we feel moving forward. It is my hope that CETA can offer a bit of normalcy to you, your students, and your school year. I trust CETA can be a source of light during these dark and uncertain times.
The CETA High School Theatre Festival will continue for the 2020/21 school year, but in a temporarily modified form. This plan is meant to allow for all schools to participate, whether they are in a distance learning model, a meet in person model, or whatever has been decided by your district leadership. This plan will not change. You can plan your semester with this in mind. Consider this for your curriculum if needed. Even if your school switches gears mid semester, you can still participate. We are also inviting California High Schools from outside Southern California to join us this year.
This year's festival will consist of:
Sceneworks adjudication: 3 recorded acting scenes
Scholarship auditions/interviews: 2 acting, 2 tech
Vivian Bish Scholarship interview
Optional Techworks adjudication: student production team design package
An online culminating event January 16th, 2021
Please carefully review the rules and guidelines for Sceneworks (includes the scholarship opportunities) and the optional Techworks rules and guidelines (not included as part of the Sceneworks registration).
I wish you all well as you embark on the most rigorous, and I hope, rewarding school year many of us have ever faced. I love you all.
Break legs and be safe,
Desiree Hill
CETA HSTF Coordinator
Theatre Teacher, Montclair High School
Contact us: CETAHSTF@gmail.com