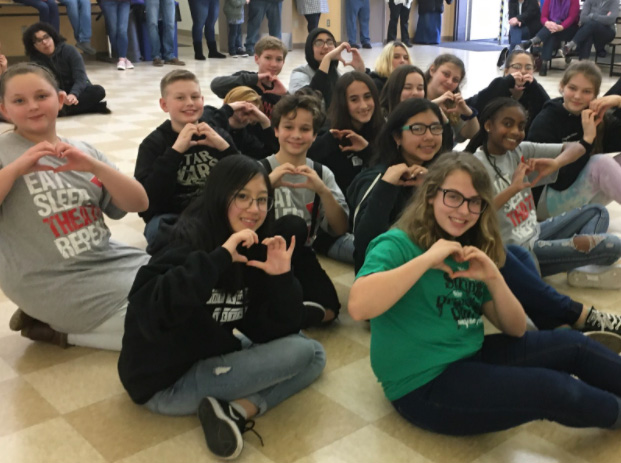 CETA Middle Stage Fest 2023
March 25, 2023
The CETA Middle Stage Fest, now in its twenty-second year, is an exciting event for middle school drama students. At the festival, vstudents perform monologues, duo scenes, group scenes, and musical theatre numbers for panels of adjudicators and compete to earn bronze, silver and gold places. This year we're adding a Technical Theatre event. This year's festival will again be a hybrid event. We're continuing to combine the best elements of the virtual Fest with the live and in-person experiences so many of us crave. Teachers and students may choose the participation level they are most comfortable with.
Unlike involvement in sports, it is rare for theatre students to have the opportunity to meet peers from other schools, share their passion, showcase their talent, and learn from one another. This festival brings together hundreds of students to do just that. We'll celebrate the 22nd anniversary of this fabulous event on the weekend before World Theatre Day, March 27!
Description:
Individual students may compete in up to two of six categories: technical theatre, monologues, duo scenes, group scenes, musical theatre solos, and musical theatre duets. Students will record and submit their performances using Flipgrid by March 3 at Midnight. Students get to connect with other young artists and share their experiences in theatre during workshops and games. The event will culminate with an awards ceremony including the best performances in each category.
Your Students Will :
● Perform & view performances
● Meet students from other schools
● Receive recognition (in-person attendees will receive a CETA t-shirt, in-person contestants will earn medals based on adjudication scores, and digital certificates will available for teachers to share and/or print for their students)
● Create great PR for your program
● End the day excited about theatre!
Categories:
Students may enter up to two of six categories
Monologues: 1 minute maximum
Duos: (2 person scenes) 3 minutes maximum
Groups: (3 or more person scenes) 5 minutes maximum
Musical Theatre Solos: 1 minutes maximum
Musical Theatre Duets: (2 person scenes) 3 minutes maximum
Technical Theatre: (Set, Costumes, Props, or Makeup) 1 photo and 1 paragraph rationale
Performances in the first five categories are conducted under audition conditions. No costumes or sets. If required by scene, small hand props are acceptable. For Technical Theatre, students will enter one
picture and one paragraph for a set, costume, prop, or makeup they designed.
Lunch will not be served, but our snack bar will be open. We'll have items like water, soda, coffee, hot chocolate, candy, and chips. All
items will be $1 - cash only.
Location: Katherine L. Albiani Middle School
9140 Bradshaw Road
Elk Grove, CA 95624
March 25, 2023 Schedule:
1:00 – 1:15 Welcome
1:15 – 2:00 Workshop I (Acting, Musical, and Technical)
2:00 – 2:10 Break
2:10 – 2:55 Workshop 2 (Acting, Musical, and Technical)
2:55 – 3:05 Break
3:05 – 3:50 Workshop 3 (Acting, Musical, and Technical)
3:50 – 4:00 Break
4:00 – 4:30 Theatre Scavenger Hunt and Games (Tech Rehearsal
for All Festival Performances)
4:30 – 5:30 Awards and Closing Program
Important Dates:
Friday, February 10, 2023 – Deadline for registration.
Friday, March 3, 2023 – Deadline for students to submit Flipgrid videos.
Sunday, March 5, 2023 – Deadline for teachers to verify student submissions.
Sunday, March 5, 2023 – Access to submissions sent to adjudicators. Two-week scoring window opens.
Saturday, March 18, 2023 – Deadline for adjudications to be completed.
Saturday, March 25, 2023 – In-person MSF Workshops and Awards Ceremony.
Direct inquiries to:
Site Coordinator: Michelle Campbell @ mmcampbe@egusd.net
Carol Hovey
Registrar, CETA Middle Stage Fest
Registration Deadline: February 12, 2023