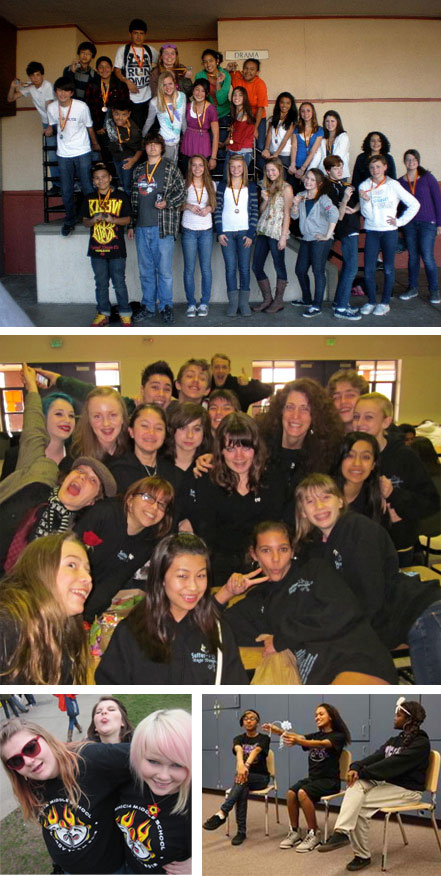 January 25, 2020
The CETA Middle Stage Fest, now in its nineteenth year, is an exciting event for middle school drama students. At the festival, students perform monologues, scenes, and musical theatre numbers for panels of adjudicators and compete to earn bronze, silver and gold medals. In addition, while judges are tabulating the scores, students get to participate in high-energy theatre games. Unlike involvement in sports, it is rare for theatre students to have the opportunity to meet peers from other schools, share their passion, showcase their talent, and learn from one another. This festival brings together hundreds of students to do just that. All participating students qualify to attend CA YOUTH IN THEATRE DAY, where they meet and perform with other award-winning students from throughout the state.
Description:
Individual students may compete in up to two of four categories: monologues, duo scenes, musical solos and musical duets. Students will perform each of their events three times. A boxed lunch and t-shirt are provided for all participants.
Students get to connect with other young artists, and share their experiences in theatre. While scores are being tabulated students participate in high-energy theatre activities with a guest artist. At awards, students performers will receive a bronze, silver or gold medal to take home and show their friends!
Your Students Will :
• Perform & view performances
• Meet students from other schools
• Receive recognition
• Create great PR for your program
• Go home excited about theatre!
Categories:
Students may enter up to two of four categories
Monologues: 3 minutes maximum, One chair will be provided.
Duos: (2 person scenes) 5 minutes maximum, Two chairs will be provided.
Musical Solos: 3 minutes maximum, One chair will be provided.*
Musical Duets: (2 person scenes) 5 minutes maximum, Two chairs will be provided.*
Performances in all four categories are conducted under audition conditions. No costumes or sets. If required by scene, small hand props are acceptable.
*Students may perform a cappella. A CD player and speakers will also be provided for use with phones/ipods.

Location: Katherine L. Albiani Middle School, Elk Grove
Schedule:

8:00 – 8:45 Registration
8:45 – 9:00 Judges Orientation
9:00 – 9:15 Welcome
9:30 – 10:30 Session I
10:45 – 11:45 Session II
11:45-12:30 Lunch (Provided)
12:45-1:45 Session III
2:00-2:45 Workshop
3:00 – 3:30 Awards and Closing Program
Direct inquiries to:
Site Coordinator: Michelle Campbell @ mmcampbe@egusd.net
Carol Hovey
Registrar, CETA Middle Stage Fest
chovey@cetaweb.org
Registration Deadline: December 15, 2019

Click here to Register for Middle Stage Fest NOW!

Full List of Scholarships