Join CETA to support excellence in theatre education throughout the State of CA!
Your tax deductible annual membership fee entitles you to register for teacher conferences & student festivals at member rates. Further, your membership supports our advocacy activities to ensure that all California students receive theatre arts education from highly-­- qualified theatre educators.
Becoming a CETA Member gives California Theatre Educators, Students & Professionals the tools & opportunities they need to participate & make a positive difference in Theatre Education.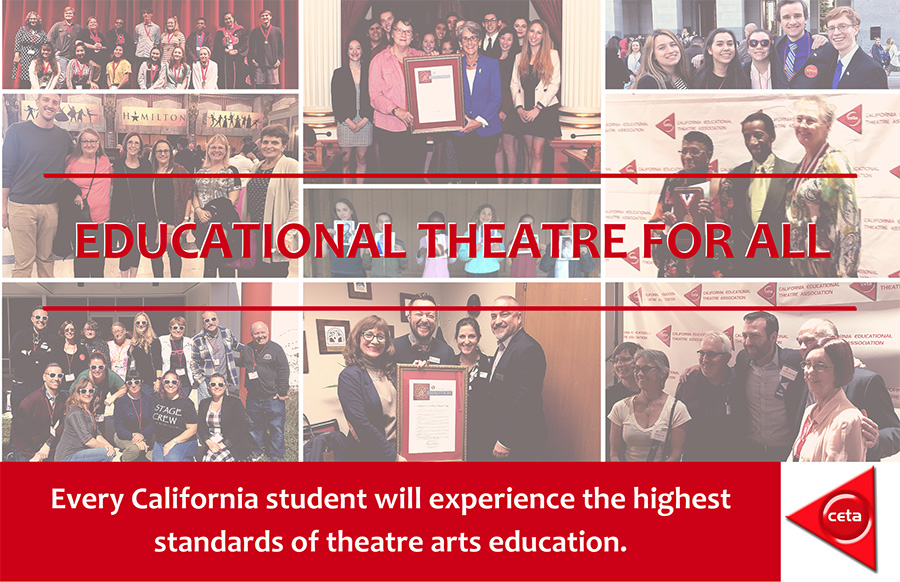 MEMBERSHIP CATEGORIES
$100.00 ANNUAL MEMBERSHIP
(a savings of $25.00)
*If you are joining as an Emeritus or Free membership, you will need to indicate if you want EdTA one-year membership and pay an additional $50.00 cost.
INDIVIDUAL
ELEMENTARY SCHOOL
MIDDLE SCHOOL
HIGH SCHOOL
PRIVATE/ PAROCHIAL
COMMUNITY COLLEGE
COLLEGE/ UNIVERSITY
BUSINESS/ PROFESSIONAL