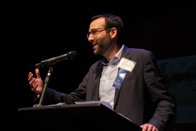 2016 CETA Awards Introductory Speech by CETA President Carol Hovey
Last year CETA celebrated its 70th Anniversary as an organization first called SCETA, founded as a professional organization whose purpose was to enrich its membership with conference programs of noted academics and professionals.  As we gather together in 2016, our organization still serves that same purpose and so much more.   CETA's Vision:
Every California student will experience the highest standards of theatre arts education.
And our Mission has been--since the creation of CETA in 1966 as a statewide organization of theatre educators which could speak for theatre education in the State of California—to encompass the needs of theatre educators teaching pre-K through higher education throughout the state in a variety of ways.  Embedded within our Mission for over 45 years has been the mandate: *to advocate for a California Single-Subject Credential for Theatre Arts.  MISSION ACCOMPLISHED!
What an exciting moment in history to witness, to be party to, and believe me we are partying! Our work is not done, but we can take a deep breath and know for a surety that after a long and arduous journey, filled with obstacles and set-backs,  the two steps forward/one step back pattern that challenges everyone fighting for a cause—not just ours—we have finally prevailed.
We are a busy organization. We not only serve theatre educators through our annual conference, PDIs, and regional seminars or events for teachers, but we address the needs of the students we serve as well through southern and northern high school theatre festivals, a Middle Stage Fest and scholarships for students to attend these events or to go to college where they too can study to become theatre teachers.  We celebrate CA Youth in Theatre Day every year when we go to the State Capitol with our students and show by performing theatre and talking to our legislators, exactly what theatre means to our youth.
Will having achieved our goal of getting Theatre and Dance Credentials reinstated in California change those events and activities?  Yes, it will, but only in small ways at first because our work is not yet done.  We theatre teachers, whether new to teaching theatre or having long been in the theatre classroom, will continue to do our best to teach theatre to all our students.  Some of us may have been deemed highly-qualified through our English credential to be in a drama classroom without the necessary training and pedagogy to teach theatre at all, while others of us acquired a degree in English in addition to a degree/s in Theatre to teach what we love.  No matter our path to being a Drama teacher, we know that the next generation of theatre teachers will be highly-qualified because they will have those degrees in Theatre, experience in doing theatre, and professional pre-service education and training that will allow them to acquire an actual Theatre Credential!
And who do we thank for that? Up to this point in our program tonight, we have acknowledged the efforts of all who have worked long and hard before this last final push to win that battle.  I have the privilege of introducing the man who put the spotlight on our plight. At the November 6, 2015 Hearing for the Joint Committee on the Arts, the chairman, Senator Ben Allen, learned much to his surprise that there were no theatre or dance credentials.
 His reaction: "This sounds like a bill. This is an issue we can do something about!"
 Senator Allen was influenced by his parents who were educators and he understands the impact of theatre on students.  "As a kid, I loved the arts. My mom is an artist, and playing Captain Hook in my high school theatre production of Peter Pan was one of the highlights of my youth. Fast-forward 20 years to 2016, when he declared, "For a state that prides itself on being the arts and entertainment capital of the world, this is just a glaring oversight that needs to be addressed.  I realize I was fortunate to have grown up in a community that values the arts and understands the positive influence the arts can have on young people. Students with a higher level of arts involvement are more likely to be high achievers on tests, less likely to drop out, and be more engaged in school."
 Senator Allen was true to his word and less than 10 months later his bill, SB916 TADA! was signed into law by Governor Jerry Brown on September 26, 2016 and after 46 years we finally have our Theatre and Dance Credentials reinstated.
 We in CETA remember him singing along with over 200 theatre students, "There's No Business Like Show Business" on the steps of the Capitol at CA Youth in Theatre Day 2016.  Senator Allen is driven by his passion for education, for students, the arts, and making our state a better place to live.  As President of CETA, I am personally very honored to present to Senator Ben Allen, the CETA 2016 Award for OUTSTANDING CONTRIBUTION TO THEATRE EDUCATION. TADA!
(Carol Hovey)