Each year between October and December, the California Educational Theatre Association adjudicates Fall productions throughout the Southern California Region. The top high school productions are presented at our CETA Southern High School Theatre Festival during the Friday, Saturday and Sunday of Martin Luther King, Jr. weekend. The weekend offers a variety of opportunities including workshops led by professionals in the industry encouraging artistic growth for high school students and their teachers. The three-day Festival showcases four MainStage plays selected from four regions of Southern California: Los Angeles, Orange County, the Inland Empire, and San Diego County. Additionally, eight schools are selected to perform 10-minute scenes from their productions for the Festival's SceneFest. The CETA Southern High School Theatre Festival is open to all high schools across the state of California.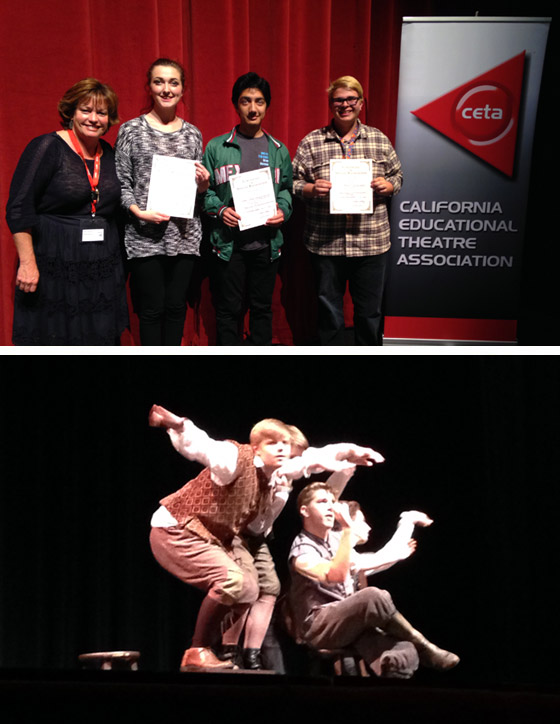 Important Dates
Show Adjudication Registration Due by September 15th, 2017
CETA Conference
Informational Meeting October 14th.
Show Adjudication*
October 14th – December 9th, 2017
*Early Registration will ensure adjudicators are assigned prior to the pre-determined adjudication date.
https://www.eventbrite.com/e/20172018-ceta-high-school-theatre-festival-adjudication-registration-registration-36616007464
Festival Dates
Martin Luther King Jr. Weekend
January 12-14, 2018
Los Oso High School
6001 Milliken Ave
Rancho Cucamonga, CA 91737
Registration Details
There are 3 registration options and fees: (ALL Participating schools must attend the CETA HSTF Informational Meeting on Saturday, Oct. 14th at the CETA Conference.)
$350* Includes Fall production adjudication, one (1) adult and four (4) student tickets to the festival weekend in January. Productions will be eligible for festival performances.
$230* Fall production adjudication only. This option is good for a school who wants judge feedback but is not sure they can make it to the festival. Productions entered in this category will not be eligible for festival performances.
$175* Festival registration only. Includes one (1) adult and four (4) student tickets to the festival weekend in January. No adjudication.
Attending the full CETA Conference in October? Use code "HSFest" to receive a $50.00 discount on your CETA full conference registration. This only applies to those registering for and attending the FULL conference.
*Participation in the CETA SOUTHERN HSTF requires paid current CETA membership and attendance at the Informational Meeting during the CETA Conference in October.
Event Highlights for Southern Region
Your show is adjudicated for MainStage participation
SceneWorks Competition adjudicated
Senior Acting Scholarship Auditions
Senior Technical Theatre Scholarships
Workshops with Industry Professionals
Honorariums forCA Youth in Theatre Day
Film Festival
Event Highlights for Schools Outside of SoCal
SceneWorks Competition adjudicated
Senior Acting Scholarship Auditions
Senior Technical Theatre Scholarships
Workshops with Industry Professionals
Honorariums for CA Youth in Theatre Day
Film Festival
How to Register for Show adjudication:
https://www.eventbrite.com/e/20172018-ceta-high-school-theatre-festival-adjudication-registration-registration-36616007464