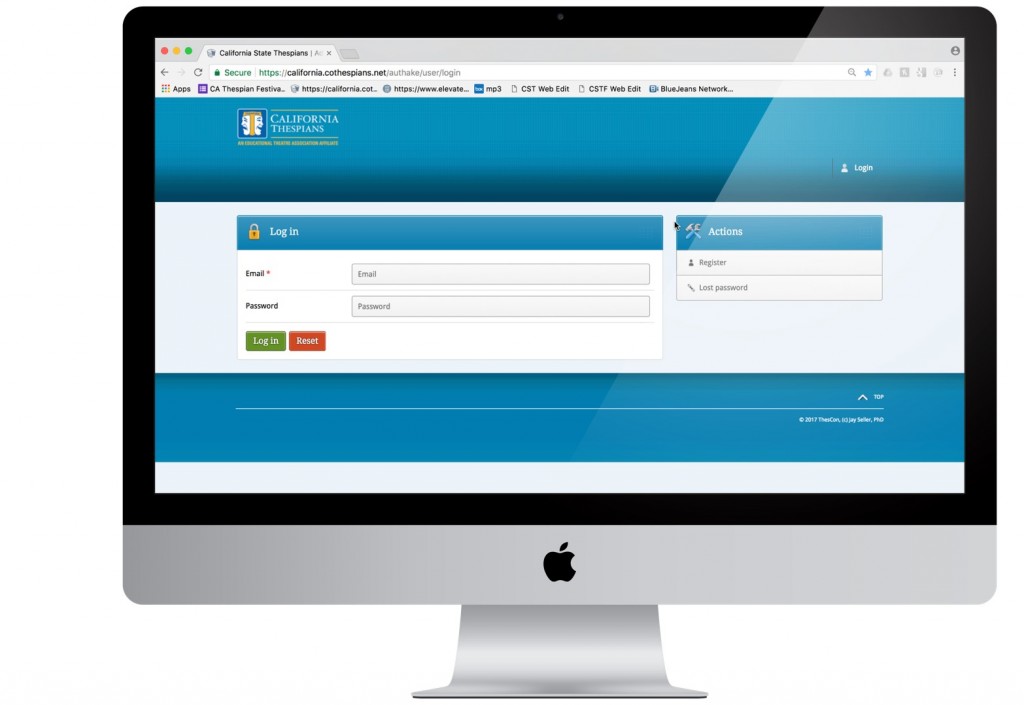 Welcome to California State Thespian Festival Online Registration. Please review this page in its entirety before you begin. Also, be sure to challenge your students to review every page so they can complete their work, and help you finalize registration. It is important to know that Festival Registration is a multi Step Process.
First: Register your Students and Chaperones for Festival as well as any events by using the link below.
Second: Collect and mail your Troupe's Health and Liability Forms and Payment. All Forms must be postmarked by January 31, 2019. Please plan accordingly and track your package. Don't forget Troupe Director forms, and forms for your Chaperone's. 
Third: Work with Students and Chaperones to ensure all supplemental event forms are also submitted by January 31, 2019.
Troupe & Delegate Registration – Click Here!
Registration opens October 22, 2018 and will close on January 31, 2019.
Be sure to use the Registration Cheat sheet and review the Registration Guide, as they can help you prepare.
Inquiries regarding the availability to register, after registration has closed, should submitted via the Registration Waitlist Form. Should you have any questions regarding the waitlist please email the Chapter Director Anthony Robinson at anthony.j.robinson@cathespians.org. All additions will be handled on a case-by-case basis..
Registration Fees:
$100.00 for Inducted Thespians
$130.00 for Non Thespians
$15.00 for Festival T-Shirt
$50.00 for Chaperones (No Fee for Troupe Directors)
$100.00 Late Registration Fee – review late registration details below. 
*Troupe Directors are included along with troupe registration at no additional cost.
The registration fee includes:
Opportunity to participate in non-IE's such as showcase and tech challenge.
Admittance to our All Festival Events, workshops, and late night activities.
Please note, for the 2019 Festival Meals are not included in the cost of registration. There will be many on site offerings in which students and chaperones can select from and facilitate meals on their own. Festival Registration Costs have been reduced for the 2019 year. 
Payment Information:
The only accepted method of payment is via school/district check, cashiers check, or money order. No personal checks will be accepted. Checks for Festival registration should be made out to California Thespians and mailed to:
California Thespians 2058 N. Mills Ave #650 Claremont CA 91711
California State Thespian Tax ID: 56-2407237
Additional Fees and Policies
Individual Event fee: The fee is $25 per event. An event is one entry (regardless of number of students) in monologue, duet acting, group acting, solo musical, duet musical, group musical, costume design, sound design, scenic design, lighting design, theatre marketing, short film, costume construction, stage management, makeup design, musical theatre dance, and technical interviews. This fee is charged within the registration system.
Other Event fees: Other events such as Scenefest and Play Marathon have a fee of $25.00 per entry. A troupe my only submit one entry. This fee is charged within the registration system.
Scholarship Audition Fee: To participate Scholarship auditions the fee is $25 per student. This fee is charged within the registration system.
Late Registration Fee: A late registration fee of $100 will be added to any Troupe's registration should their registration packet be postmarked after January 31, 2019, or the packet is received on time, is incomplete, and corrections are not received digitally within 1 week of registration processing. A registration packet would be considered complete if and only if, all Health and Liability forms are completely signed for each registered student and adult delegate (Including Chaperones and Troupe Directors), Troupe Director and Chaperone Responsibility Forms are complete for each registered adult, and payment in full, are all received. If a packet is incomplete or missing, and arrangements are not made within 1 week of the deadline a Troupe's Registration is at risk for cancellation. 
Change Fees (Excluding IE Titles): The 2018-2019 Change fee is $25. A change fee will be assessed per added or substituted delegate (students or chaperones), as well as each activity or item changed from the original registration excluding IE Title Changes. Change fees go into effect January 31st of each year. This fee is charged for any change that requires administration processing after the date featured above.
IE Title Change Fee: All IE Title are due by 3/2/2019. Any changes after 3/2/2019 must be submitted by 3/16/18 for a fee of $25. No IE changes (titles, swaps, or otherwise) will be honored after 3/16/18.
Cancellation: Once registration is paid and confirmed by there are no refund. Concerns related to this should a Troupe be unable to attend should be brought to the Chapter Director's attention.
Registration Order: Registration Order is used when assigning seats for All Festival Events and encourages complete and accurate registration and registration forms. Sending in partial or incomplete forms will not help your registration order. Your registration order is determined by three dates. First by the postmark date of your Troupe's complete registration packet, including full payment, complete Health and Liability Forms, Veggie/Allergy Meal Form, and Troupe Director and Chaperone Responsibility forms. If there is no postmark, then we will go by the date your packet was picked up. If that date matches another school, this "second" date is ordered by the latest applicable invoicing date (this is the date you hit the Payment button). If that date matches, the "third" date will default to when your troupe registration began. Adds and swaps will reset these dates.