CALIFORNIA STATE THESPIAN FESTIVAL 2020
Thank you so much to all who have registered.
Registration is now closed for the 2020 event, stay tuned for an announcement of our 2021 dates.
April 9-11, 2020, Highlander Auditorium, Upland CA
Get ready for the best three days of high school theatre in California. The California State Thespian Festival features numerous performances presented by high school students from throughout the state. Students may participate in a variety of workshops led by theatre professionals, perform or view individual performance and tech events, audition for scholarships, shop for theatre merchandise, and hang out with 1200 other California Thespians.
2020 Festival Theme: 2020 Be Seen!
We want to celebrate the stories that you bring to life, your performances and your work behind the scenes, in the rafters, the tech booth, the dressing rooms, and the classroom, we see and appreciate your passion. This year we want to see who you are and what your vision is! 
HONOR TROUPE AND HALL OF FAME
REGISTRATION SELF HELP LINKS
Check your form submissions here!

Includes all of your student's submissions such as Scholarships, Short Film, Tech Crew, etc.

Includes Troupe submissions such as Scenefest, Play Marathon, & Honor Troupe. 
2020 SCHEDULE & PROGRAM - COMING SOON!
Check out last's years program and schedule for a preview of what's to come.
2020 Festival Program 

2020 Simple Schedule

2020 FESTIVAL RELATED EMAILS:
Stay up to date by subscribing to our Festival specific mailing list below!

IMPORTANT STEPS AND REMINDERS: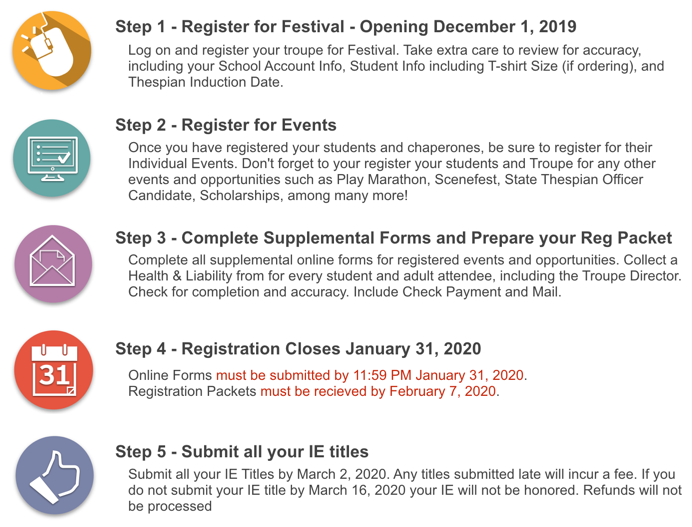 THANK YOU TO OUR SUPPORTIVE SPONSORS AND VENDORS:
The following sponsors help us in providing robust opportunities and amenities for Festival.
These offerings would not be possible without the generous support.