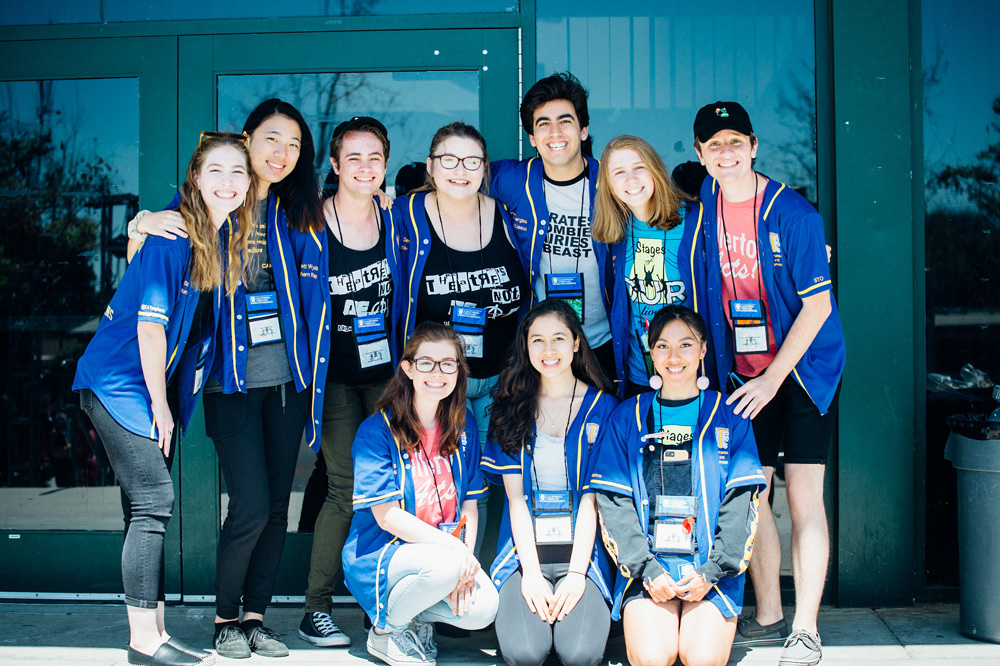 California State Student Board officers are elected at Festival to one-year terms. Each troupe may nominate up to two active members of the Thespian Society to run for office with the recommendation of the Troupe Director. Candidates must have a cumulative GPA of 2.5 or greater and have attended California State Thespian One Day Leadership (North or South). If the student is elected, the Troupe Director does not automatically become a member but is encouraged to join the State Board.
Serving on the State Board requires a substantial time commitment and though costs associated with meals and travel are covered (with the exception of travel associated with attending Festival), serving may involve some expense to the student. Candidates and their sponsors are required to help out during the Festival where they are a candidate, as well as attend the Festival the next year during their term.
All candidates will run as members-at-large. Specific positions will be decided by a consensus of the newly elected Student State Board. Student State Board offices may include Chair, Vice-Chair, and Members at Large.
    All forms due 1/31/2020
Check your form submissions here!
The following items will need to be uploaded with your application, so please prepare them in advance.
Resume: one page (8.5 x 11) Resume which includes personal information, performance, and technical theatre experiences, training, special talents, club affiliations, honors, awards, and other theatre-related information.
Your Recommendation Letter: This should be from someone other than your troupe director, such as an administrator or teacher. If they would prefer they can email this directly to info@cathespians.org
GPA Verification form signed by High School Academic Counselor
If you don't have a pre-designed school form please feel free to use the following GPA Verification Form. Your Troupe Director or Counselor may also submit directly to info@cathespians.org.
Headshot: 3"x 5" or larger photo
APPLICATION PROCESS
All applicants will receive an email scheduling two phone call interviews. Once phone interviews have been completed all applicants will be notified of their candidacy status.
If a student moves forward in the process after successfully completing the first two phone call interviews they will have an opportunity to meet with the State Board, work alongside current State Thespian Officers and present their candidate speech at the Thespian Festival.
QUESTIONS:
When you click submit below, you will receive a confirmation of your submission. You can also use that confirmation to make any edits necessary to your application.
Should you have any application or pre-festival questions please reach out to the Director of State Thespian Officers, Vanessa Montgomery.
She can be reached at vanessa.montgomery@cathespians.org