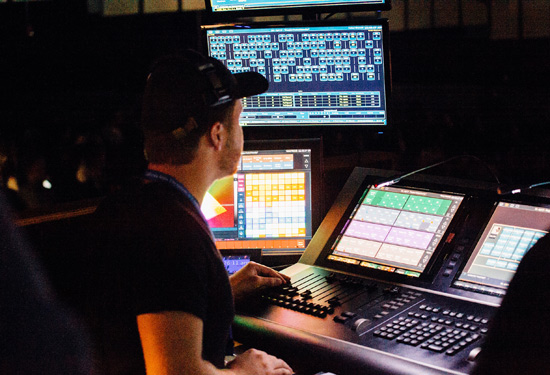 Welcome California Student Technicians! This is your first step to applying for a Technical Position for the California State Thespian Festival.
We are looking for student technicians, both beginning and advanced experience, to work backstage alongside our professional Tech Staff, you will be given a unique opportunity to get hands on experience, network with industry professionals, and learn new skills to take back to your high school theatre. For festival, we will be offering jobs in the following areas:
Stage Management
House Management
Lighting
Audio
Media/Video
Set Construction and Scenic Paint
Costuming
Expectations for student tech crew:
The technician call times may require you to be at the Festival earlier than other Festival participants.

Some of the crew positions take place during workshop sessions and other events, such as dances. You may have to miss events due to rehearsals and work sessions.

Failure to report to any assigned calls or tardiness will result in reassignment or being cut from the Tech Crew.

You will be working under the Adult Tech Staff, a group of professional Technicians from various fields of entertainment such as Theatre, Film, Viral Media, Theme Parks, and Special Events.

We expect you to be respectful and on your best behavior as these people are volunteering their time to spend the weekend with you.

Respect the Theatre, rehearsal space, gear and Highlander Auditorium Staff members. Pick up after yourself and obey all theatre rules.
Your Troupe Director will register you for a Tech Crew interview in the Festival registration system. It is your responsibility to complete all the necessary student application forms. After submitting your application, the tech staff will review your resume and application form and notify you of your next steps in the process. Your Troupe Director only registers you online for Tech Crew once and will provide your preference of discipline within the supplemental application form. You will find the application requirements on the Forms and More page.
The deadline for all applications is January 31. Student's must submit a complete application to secure your interview spot. It is important to note that a complete, and on time applications are a part of the application review process. Get the most out of this experience and take time in completing your application; treat this as a professional interview.
Should you have any questions please contact productionstaff@cathespians.org